ROPA Euro Bunker Maus 3
Video Preview
Introduction
Two-phase concept for variable wide beet clamps and paved underground
The euro-BunkerMaus is a self-propelled machine for cleaning and loading of sugar beets. The feeding of the euro-BunkerMaus occurs via a separate machine like an excavator or wheel loader. The euro-BunkerMaus included a loading basket with 12 m³ capacity, which in front guided over carry wheels. Scraper floor chains convey the sugar beets to the cleaning elements.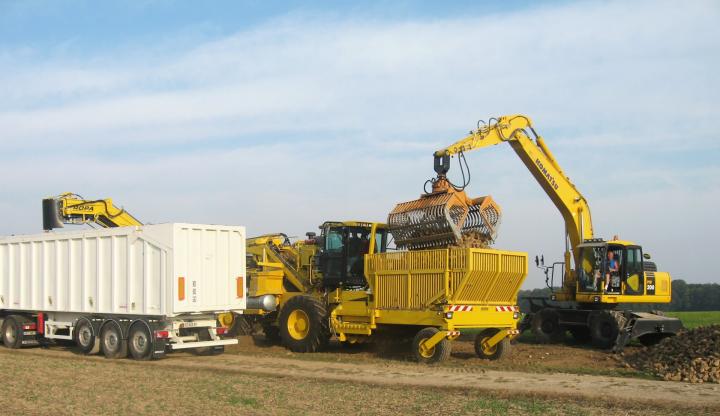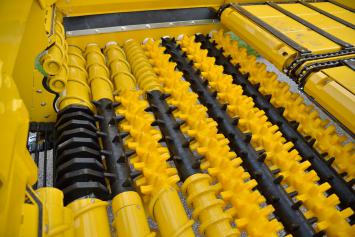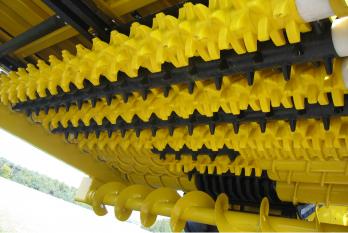 Cleaning elements from above
8 knobs rollers with a roller cleaner and two short screw rollers ensure a careful and intensive cleaning. Subsequently, the beets on a 80 cm wide conveyor belt will be forwarded under the cabin.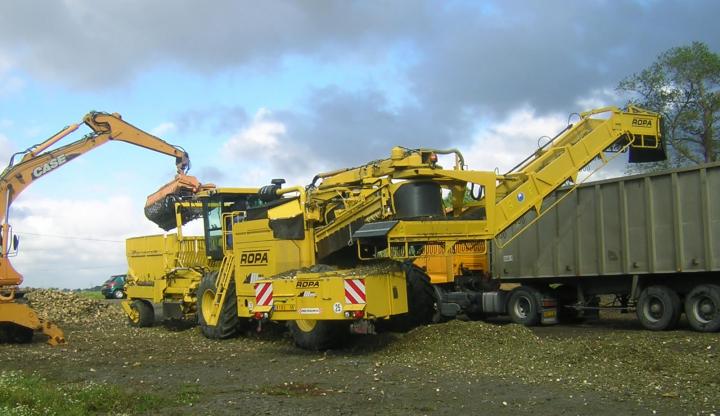 The front knobs rollers at the beet tank are responsible for the main cleaning of the sugar beets. The further cleaning happened across an eightfold spiral roller cleaner which transports the beets to the loader.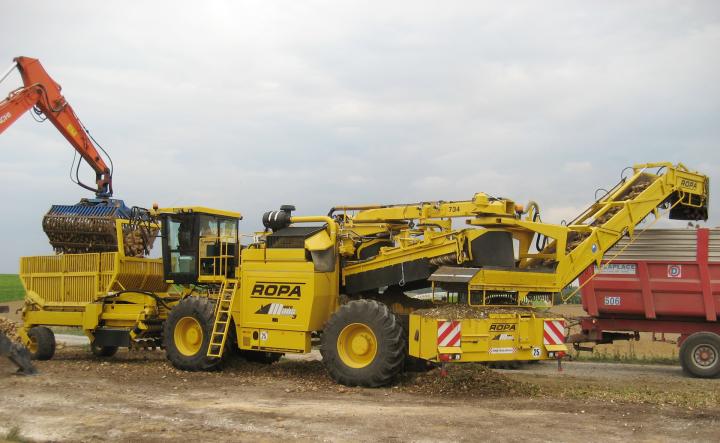 The overloader conveys the sugar beet on to the transport vehicle. Cleaning and loading of the sugar beets is controlled from the cabin by a single operator and monitored. In only 3-5 minutes a truck can be loaded with 25 t (550 t/h) with beets.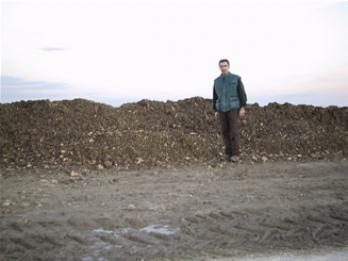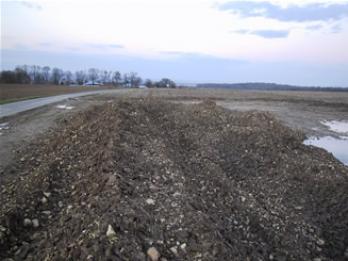 The euro-Bunkermaus has done a good job! The two pictures show removal of soil, leaf and scalping from a beet camp in France which was cleaned and loaded by a euro-Bunker Maus. Against this cleaned dirt pile, ROPA employee Carriere Julian of ROPA France. He is 1.85 m tall.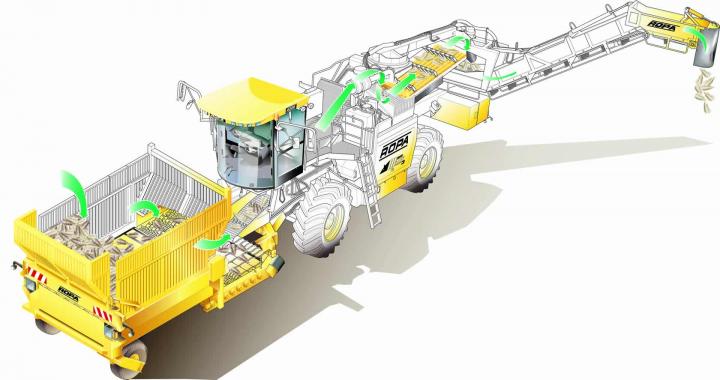 This drawing shows the process of the cleaning path of euro-Bunker Maus 3.
Technical Data
Engine:
Mercedes Benz diesel engine OM 926 LA, exhaust norm EURO-MOTIIIa, 6-cylinder linear engine with 220 kW / 299 hp at 2200 RPM, max. torque of 1200 Nm at 1300-1600 RPM, cubic capacity 7.201 ccm, fully electronic steering with fuel consumption accessed at the terminal, temperature dependant adjustable and reversible hydrostatic ventilator drive, flat belt alternator drive with automatic belt tensioning, fuel tank capacity 1340 l.
Propulsion:
Continuous hydrostatic propulsion with 4-gear drive, 2 separately activated differential locks, cruise control, automotive driving on roads, speed regulation through electronic steering when in crawling gear. Speed: 0-20 km/hr; optional 25 km/hr.
Hydraulic System:
Pump distributor gear with load-adjustable multiple disc clutch for activating all pumps (easy starting of the diesel engine even at extremely low outer temperatures), pressure circuit lubrication with monitor of the lubricating oil level, adjustable drive transfer for reducing revolutions at loading, a load-sensing pump for feeding the entire hydraulic system, 3 axial piston pumps (for the speed adjustable and reversible roller drives) large propulsion pumps for speed-reduced driving on roads in automotive mode.
Steering:
Front axle steering, rear axle steering, turning, automatic mid-position with display at the terminal, turning angle front 30°, rear 32°.
Turning Circle:
8.30 m inner turning circle
Cabin:
Sound-proof, all-round view cabin with tinted glazing and low line vision, control panel at rotating seat with integrated colour terminal, function keys with selector dial, 2 proportionally driven multi-function joysticks, engine monitoring at the terminal, air-conditioning unit, rotating and air-sprung comfort seat with lock, MP3-CD radio with audio system, 60 l storage cubicle in the cabin back wall, screen wipers front, left, right and rear.
Cleaning / Loading Capacity:
up to 550 tonnes per hour loading
Bunker:
loading basket with 12 m³ barrel capacity, guided by carry wheel
8 burling rollers with one cleaning roll plus 2 short snail roller provide a gentle and intensive cleaning degree
In-feed Web:
80 cm wide, 50 mm separation with PU-collector cleats and dirt flaps, double-cam belt
Additional cleaning:
Spiral roller cleaning with 8 tangentially rotating rollers, 125 cm wide
Loading Height:
up to 6 m
Loading Width:
11.5 m (standard elevator)
optional 13 m (extended elevator)
Electrics:
24 volt, 2 light units with 100 amps each, 12 volt sockets, 2x24 volt sockets
Driving on Roads and Working Mode:
The switch-over from road transport to working mode takes appr. 2 mins.
Dimensions during Road Transport:
length: 13.35 m; width 3 m; height 4 m
Weight:
depending on type from 23,500 kg
Tyres:
710-75 R34, load index 178 A8
carry wheel in front of the bunker 520/50-17 T306 TL 158A8/B
Standard Equipment:
central lubrication, collection arm for remaining beet, air-conditioning, on-board tools
Optional Equipment:
stationary heater, 25 km/h version, elevator camera, data export by USB stick, weighing facility, integrated GIS-interface, integrated RABS-System for removal logistic by transponder or data-key
Made in Germany.
Tested by TÜV and professional cooperatives, conforming with CE regulations.
Subject to technical alterations.